Coming Events:
There are no upcoming events.
Past events: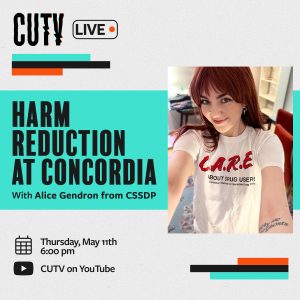 Check out our upcoming livestream on harm reduction at Concordia happening this Thursday, May 11th, from 6-7 pm on our YouTube!

We're going to be interviewing Alice Gendron from CSSDP (Canadian Students for Sensible Drug Policy) about harm reduction for students and why it's important. We will also be talking about advocacy work for people who used drugs, what sort of work CSSDP does, and more!

If you are curious about harm reduction and want to learn more than definitely tune in on Thursday and keep an eye out for upcoming livestreams.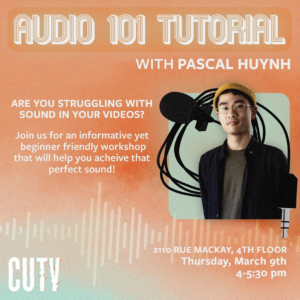 Clean audio can be tricky to perfect – whether it's for a podcast or the sound in a video project. If you find yourself struggling at all with sound or just want to learn more about audio in general, sign up for our beginner friendly tutorial hosted by Pascal Huynh.

Pascal is a board member at CUTV and has hosted successful workshops for us in the past. With a film animation degree from Mel Hoppenheim, work experience for the National Film Board of Canada, and a current position as a full time digital arts teacher, Pascal is always eager to spread his knowledge to the community.

Join us at the station on Thursday, March 9th at 4:00pm. Registration is free as always and spots are reserved on a first come, first serve basis by emailing us at info@cutvmontreal.org

See you there 🎤🎛️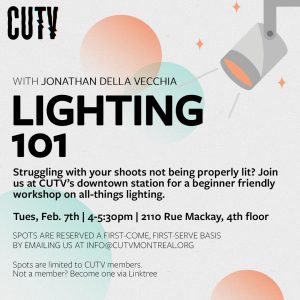 Are you struggling with your video shoots not being properly lit? Join us at CUTV's downtown station for a beginner friendly workshop on all-things lighting.

Email us at info@cutvmontreal.org to register. Spots are limited to CUTV members and will be reserved on a first-come, first-serve basis

CUTV invites you to join us for a video editing tutorial next Wednesday, November 30th, at 4pm in person at the station. Hosted by CUTV and Local 514's very own Video Journalist and Editor Aude Simon, this workshop will acquaint you with post-production softwares including Da-Vinci Resolve. Don't have any idea where to start with these programs? Don't worry – the tutorial is beginner friendly!

The workshop will take place in our station's editing lab, which contains seven Mac computers with all the necessary editing softwares downloaded. All you need to bring is yourself and your enthusiasm for editing!

Please email us at info@cutvmontreal.org to reserve a spot. Space is limited and your spot will be secured on a first-come, first-serve basis.

Concordia prides itself on being a progressive and sustainable university, so why are we still relying on multinational corporations for our food system? This campaign protests the contract that Concordia has with Aramark to be the university's primary food source and introduces Concordia's community to more sustainable food systems that have successfully been integrated into other Canadian Universities.

Join CUTV at Reggies Bar on Nov. 23rd from 4-6pm for a screening of CUTV's "No More Aramark" explainer video.

Join us next Wednesday, Nov. 2nd at 4:00pm for a Zoom discussion on Decolonizing the News with Odette Auger. Odette is a journalist at Indiginews, an Indigenous owned and operated platform in British Columbia. In this talk, we will be unpacking the ways in which news rooms and news publications have upheld colonial values, and how journalists are reinventing the world of media.

Join us for a discussion about drug use representation in the media with Hilary Agro! Hilary is a PhD candidate at the University of British Columbia in Anthropology whose research covers drug use policy, activism, and the harms of drug prohibition. She is also a self professed rave mom and has a long history of involvement within rave communities and with community organizing around drugs.

In this talk we will be covering the misinformation and disinformation spread by mainstream, corporate media in regards to drugs and analyzing the various moral panics that have been instigated through fear mongering tactics used by the media. We will also be touching on the role that the media has played within the drug war, the influence of colonialism, white supremacy, and the police, as well as the role that independent, grassroots media can play in reshaping these narratives and dispelling the drug myths that we see today.

Please join by using this zoom link:

https://concordiaca.zoom.us/j/88900473312pwd=UWpkZ2g1aldjWWhlNDIyUmNnS05wUT09.

This event is brought to you by CUTV (Concordia University Television Station) and CSSDP (Canadian Students for Sensible Drug Policy). If you like this talk and like our work, you can visit both of our websites and follow us on social media. We look forward to seeing you on zoom!

www.cutvmontreal.org

@cutvmontreal (instagram and twitter)

http://CSSDP.org

@cssdpconcordia (instagram)

A CUTV workshop with Pascal Huynh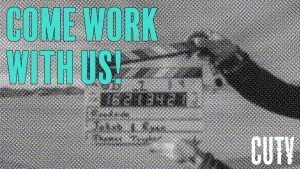 Community University Television—Concordia is hiring a Station Manager. Reporting to the Executive Director, the Station Manager will oversee CUTV's on-location programs and projects, including: equipment rentals for members, our grassroots coverage fund, workshops and other educational activities, and in-studio production.

The successful applicant will demonstrate some of the following: experience organizing events and communicating with the public, project management skills, a strong commitment to progressive values or activism, experience with video and audio production, and familiarity with campus life at Concordia.

The job posting will be open until the position is filled, but applicants are strongly advised to apply by 2 pm ET on August 15th, and will ideally be available to start work in late August.

About CUTV:

Community University Television (CUTV) is Canada's oldest student TV station and operates as a non-profit fee-levy organization. CUTV is a hub for independent media production and growing alternative media institutions. The core of CUTV's mandate is to train and build a network of mutually supportive independent journalists and media producers. Through educational events, workshops, and equipment lending, CUTV aims to connect the community and empower the next generation of journalists. Learn more at www.cutvmontreal.org/

Station Manager core responsibilities:
Oversee the CUTV equipment rental program and studio space rentals
Maintain up-to-date membership lists and member accounts
Manage the office space
Plan workshops and manage logistics for in-person and online events
Coordinate grant disbursements and track projects
Oversee communications with membership and public
Qualifications and experience:
Excellent verbal and written English communication skills
Involvement with social movements, labour organizing, or other activism
Proficiency with MacOS, Google Drive and audio and video editing software
Experience in video/audio production
Ability to work autonomously
Excellent organizational skills
Ability to multitask and prioritize short and long term tasks
Problem solving skills
Assets:
Fluency in spoken and written French
University degree in journalism, communications, film production, or another related field
Currently enrolled as a student at Concordia university
Accessibility disclaimer:
Our office is unfortunately not wheelchair accessible. Our office is located on the 4th floor and is only accessible via stairs.
More info:
The position requires a minimum of three days/week of in-office work
Reporting to the Executive Director and Board of Directors
Compensation $20-25 per hour at 40 hours per week.
This position is covered by CUTV's group health insurance plan.
To Apply:
Please attach your cover letter and resume in a single PDF document and send via email to jobs@cutvmontreal.org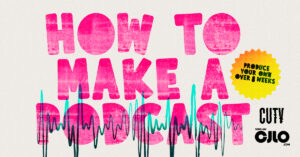 CUTV & CJLO 1690AM present: How to Make a Podcast!

You've all heard the term before: podcast. It's new, it's exciting, and it seems like everyone has one. And maybe you already do! But if you don't, luckily CUTV and CJLO 1690AM have got you covered! In this eight week series, participants will master foundational concepts of audio production and storytelling. At the end of the series, participants will have their very own pilot episode ready to go! We'll cap things off with a listening party for all involved!

And you won't be alone– the staff from CJLO 1690AM & CUTV will be there to support you every step of the way, and participants will have full access to recording and editing equipment as well as a workspace to complete weekly tasks. By the end of the eight week series. We'll cap things off with a listening party for all involved! There is a $20 or PWYC registration fee for this event. Proceeds from the registration fee will go towards a final listening party! If for any reason you require your fee to be waived, email emma@cutvmontreal.orgTo register, please fill out this form and follow the instructions to pay the registration fee: https://forms.gle/LyYA5NN4b9qpdPYE7

Dates of Instruction:

June 7  | Into to Podcasting 1
June 14 | Intro to Podcasting 2
June 21 | Intro to Recording
June 28 – July 1 | Recording troubleshooting office hours
July 5 | Editing sessions 1
July 12 | Editing sessions 2
July 19 | Editing sessions 3
August 9 | Publishing & Promoting/Listening Party


NOTE: This will be an in-person series, meaning all participants must be based in Montreal. CUTV and CJLO 1690AM will follow all directives issued by Concordia University.

A little bit about our facilitators:

Francella Fiallos (she/her) is the Station Manager at CJLO 1690AM. She has done the whole J-School thing (twice!) at both Carleton University and the University of King's College where she respectively earned her Bachelor's and Master's degree. She has bylines in CBC, Halifax Examiner, The Coast, and rabble.ca, but her main focus has been campus-community radio where she has spent the past seven years. She is a juror for Music Nova Scotia, ADISQ, and the Polaris Music Prize.

Chris Aitkens (he/him) is the Program Director at CJLO 1690AM. He is also the host of Sewer Spewer, where he pays tribute to Montreal's underground scene every week. He studied journalism at Concordia University, which led to him becoming a board operator and weekend "news vampire" at CJAD 800 before joining CJLO's team. On the side, he writes about horror movies for Nightmare On Film Street, and screams in a heavy punk band called Gutser. His other obsessions include the Simpsons, VHS collecting and sewing.

Emma Austin (she/her) is the Station Manager at CUTV. Emma is a musician and writer, and has worked as a professional musician for over ten years. She graduated from the Simone de Beauvoir Institute in 2020 with a double major in Gender Studies and Sociology, and she currently writes, edits, and co-hosts a podcast on the Harbinger Media Network called Gender Troubles.

Andre Goulet (he/him) is the Executive Director of the Harbinger Media Network, a podcasting nonprofit empowering a new generation of progressive media creators. He's also the host of the long-running politics and society interview podcasts "Unpacking the News", "The Korea File" and "Harbinger Society Presents". Goulet is also the producer of "Le Plancher des Vaches" from Pivot Quebec, "Face au Futur" from Spacing Magazine, the weekly Jewish-Canadian current events show 'Bonjour Chai' and the 2018 Paris Podcast Festival Grand Jury Prize-winning "Fil Rouge", a French-language series exploring stories from First Nations and Inuit communities in northern Quebec.