Coming Events: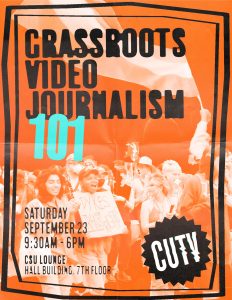 At a time where facebook and instagram have started blocking Canadian news outlets from their platforms, it is clear that we need accurate journalism that is critical of and resistant towards corporate monopolization and greed now more than ever. Existing outside of corporate interests, independent and grassroots journalism has the greatest potential to speak truth to power, and to amplify stories that may otherwise be ignored or misrepresented.
Join CUTV staff Savanna Craig, Aude Simon, Dru Oja Jay, and other distinguished journalists for a day long workshop and training session on grassroots video journalism on Saturday, September 23rd from 9:30 am to 6:00 pm at the CSU lounge, Hall building 7th floor.
Activism needs to be documented. Through stories, through video, and through media coverage. Without adequate and representative media coverage, social movements risk falling under the radar and stagnating. With adequate and accurate media coverage, social movements have greater potential to transform the world we live in. Dru, Savanna and Aude will be drawing from their lived experiences as independent journalists to offer insight and practical advice on what grassroots journalism is, why it matters, and how to practice it.
Whether you are a journalist, activist, filmmaker or someone aspiring to be one of these things, all interested participants are welcome!
Past events: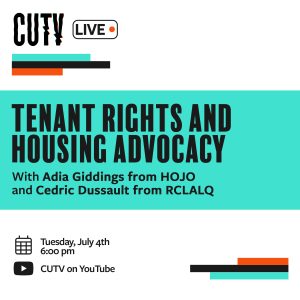 On Tuesday, join us on CUTV's YouTube channel for another livestream! At 6pm, we will be joined by Adia Giddings from HOJO and Cedric Dussault from RCLALQ to discuss all things housing! This discussion will unpack the ongoing issues surrounding tenant rights including the recent Bill 31 and more.

Tune in to learn how to stand up for your rights as a tenant and protect yourself from landlord intimidation tactics.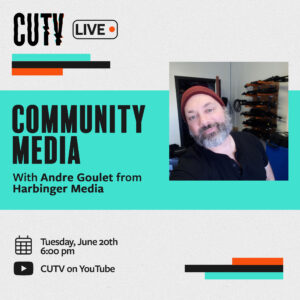 Don't forget to tune into our livestream on community media happening TOMORROW, June 20th at 6 pm on our YouTube channel — available via Linktree.

This livestream will be featuring Andre Goulet, Hannah Glover, and Chris Hurl from Harbinger Media.

Tune in to learn more about Hannah and Chris's new podcast "Data Decoded" and Harbinger's role in the community as a leftist podcast network.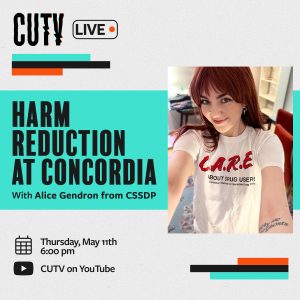 Check out our upcoming livestream on harm reduction at Concordia happening this Thursday, May 11th, from 6-7 pm on our YouTube!

We're going to be interviewing Alice Gendron from CSSDP (Canadian Students for Sensible Drug Policy) about harm reduction for students and why it's important. We will also be talking about advocacy work for people who used drugs, what sort of work CSSDP does, and more!

If you are curious about harm reduction and want to learn more than definitely tune in on Thursday and keep an eye out for upcoming livestreams.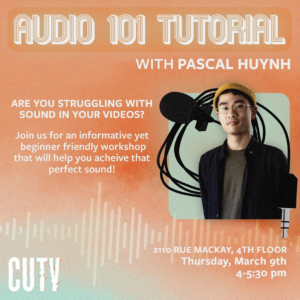 Clean audio can be tricky to perfect – whether it's for a podcast or the sound in a video project. If you find yourself struggling at all with sound or just want to learn more about audio in general, sign up for our beginner friendly tutorial hosted by Pascal Huynh.

Pascal is a board member at CUTV and has hosted successful workshops for us in the past. With a film animation degree from Mel Hoppenheim, work experience for the National Film Board of Canada, and a current position as a full time digital arts teacher, Pascal is always eager to spread his knowledge to the community.

Join us at the station on Thursday, March 9th at 4:00pm. Registration is free as always and spots are reserved on a first come, first serve basis by emailing us at info@cutvmontreal.org

See you there 🎤🎛️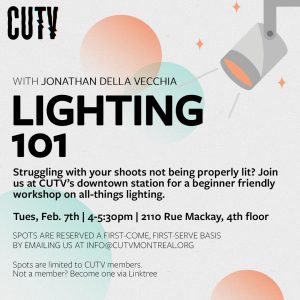 Are you struggling with your video shoots not being properly lit? Join us at CUTV's downtown station for a beginner friendly workshop on all-things lighting.

Email us at info@cutvmontreal.org to register. Spots are limited to CUTV members and will be reserved on a first-come, first-serve basis

CUTV invites you to join us for a video editing tutorial next Wednesday, November 30th, at 4pm in person at the station. Hosted by CUTV and Local 514's very own Video Journalist and Editor Aude Simon, this workshop will acquaint you with post-production softwares including Da-Vinci Resolve. Don't have any idea where to start with these programs? Don't worry – the tutorial is beginner friendly!

The workshop will take place in our station's editing lab, which contains seven Mac computers with all the necessary editing softwares downloaded. All you need to bring is yourself and your enthusiasm for editing!

Please email us at info@cutvmontreal.org to reserve a spot. Space is limited and your spot will be secured on a first-come, first-serve basis.

Concordia prides itself on being a progressive and sustainable university, so why are we still relying on multinational corporations for our food system? This campaign protests the contract that Concordia has with Aramark to be the university's primary food source and introduces Concordia's community to more sustainable food systems that have successfully been integrated into other Canadian Universities.

Join CUTV at Reggies Bar on Nov. 23rd from 4-6pm for a screening of CUTV's "No More Aramark" explainer video.

Join us next Wednesday, Nov. 2nd at 4:00pm for a Zoom discussion on Decolonizing the News with Odette Auger. Odette is a journalist at Indiginews, an Indigenous owned and operated platform in British Columbia. In this talk, we will be unpacking the ways in which news rooms and news publications have upheld colonial values, and how journalists are reinventing the world of media.

Join us for a discussion about drug use representation in the media with Hilary Agro! Hilary is a PhD candidate at the University of British Columbia in Anthropology whose research covers drug use policy, activism, and the harms of drug prohibition. She is also a self professed rave mom and has a long history of involvement within rave communities and with community organizing around drugs.

In this talk we will be covering the misinformation and disinformation spread by mainstream, corporate media in regards to drugs and analyzing the various moral panics that have been instigated through fear mongering tactics used by the media. We will also be touching on the role that the media has played within the drug war, the influence of colonialism, white supremacy, and the police, as well as the role that independent, grassroots media can play in reshaping these narratives and dispelling the drug myths that we see today.

Please join by using this zoom link:

https://concordiaca.zoom.us/j/88900473312pwd=UWpkZ2g1aldjWWhlNDIyUmNnS05wUT09.

This event is brought to you by CUTV (Concordia University Television Station) and CSSDP (Canadian Students for Sensible Drug Policy). If you like this talk and like our work, you can visit both of our websites and follow us on social media. We look forward to seeing you on zoom!

www.cutvmontreal.org

@cutvmontreal (instagram and twitter)

http://CSSDP.org

@cssdpconcordia (instagram)

A CUTV workshop with Pascal Huynh