Coming Events:
There are no upcoming events.
Past events: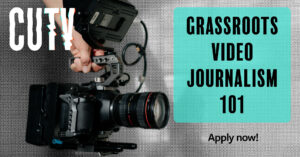 Applications are now closed.

To pay your registration fee, please find the PayPal form below.
As a member of CUTV, you are formally invited to our Annual General Assembly!

Join us to learn about all the things CUTV has accomplished over the year and what we are planning for this coming year. Due to limited capacity, we are offering a hybrid in-person & online event. If you would like to attend in person, please RSVP via the in-person registration link ASAP to reserve your spot. If you would like to attend via Zoom, please RSVP via the online registration link. This is also the exciting time when we will elect new members to the Board of Directors!

Registration:

In-person advance registration-
 https://forms.gle/kAy5afKqEGPsWqtu7

Online advance registration-
https://us02web.zoom.us/meeting/register/tZEldOqtrDsjEtcE7FZAzTRqMBUTz_H1N8LT

After registering, you will receive a confirmation email containing information about joining the meeting.

BoD:

The board is looking for new members to join our board! We are looking for:
Student Members (4)
Community Members (3)
Before running please consider the commitment of being an active board member below:
Each board member is committing to a one year mandate, and is expected to dedicate 4-6 hours per month to the organization.
Board members are expected to attend monthly board meetings which last approximately 2-3 hours.
In addition to monthly board meetings, board members are expected to sit on at least one active board committee, to be determined at the first meeting of the year. Committees typically meet once or twice a month for 1-2 hours.
Please note due to Covid all meetings are currently happening over zoom, but this might change
This year, CUTV is looking for Board of Director candidates that have experience in the following areas:
Media and journalism
Videography
Business decision making
Business branding
Strategic business development
Online marketing
Social economy
Grant writing & fundraising
Human resource management/group decision making
Financial literacy
To apply:

Send a brief email to: info@cutvmontreal.org

In your email, include a description of who you are and why you want to get involved. All candidates will also be requested to present themselves at the upcoming Annual General Assembly. Please note that you may still run for a board seat in the AGM without undertaking this process, we have set this up as a means of providing guidance and support to those candidates who are considering joining the board.

See you there! We will have food and (non-alcoholic) drinks, as well as drink tickets for Reggies post-AGM!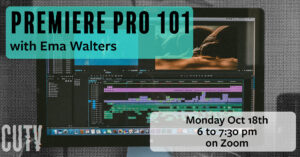 Do you want to learn how to edit your video projects in Premiere Pro? This introductory course will go through editing a simple video in Premiere pro and outline all the basic tools and elements of the program. This workshop will be led by Ema Walters (she/they). Ema is a visual artist, filmmaker and lead video editor for The Breach. She is also the founder of Eachother, a studio aiming to harmonize the 'we' and the 'I' through creative process. Check Ema's work out here: https://emawalters.com/eachother


If you don't have Premiere Pro and want to try it out before purchasing it, follow this link to get a 7 day free trial: https://www.adobe.com/ca/products/premiere/free-trial-download.html. Make sure to sign up for the free trial after October 11th to ensure you still have access for the workshop!


Please use the registration form below to register for this event. We all then send you the Zoom link on the day of the workshop. Spots are limited and priority will be given to CUTV members. If you have not signed up as a CUTV member, please head to our membership page to do so. Concordia undergraduate students can become CUTV members for free, and there is a $20 membership fee for non-students.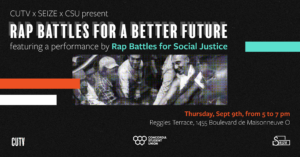 CUTV x SEIZE x CSU present…Rap Battles for a Better Future!

Welcome back to campus! As a kick-off to the Fall 2021 semester, please join us for a performance by Rap Battles for Social Justice, an epic rap group featuring a DJ, live instrumentalists, and rappers discussing topics such as environmental and economic justice. Check them out on Instagram– @RB4SJ

This event will also feature speakers from different groups on campus, including the Solidarity Economy Incubation Zone (or SEIZE) who will discuss the solidarity economy and help you get involved with their activities on campus. CUTV will also be present, screening coverage and offering opportunities to get involved with videojournalism activities on campus. 

When: September 9th, 2021, 5-7 pm
Where: Reggies Terrace, 1455 Maisonneuve O
Cost: Free!

Please note the capacity for the terrace is limited. Social distancing must be maintained, and masks are recommended.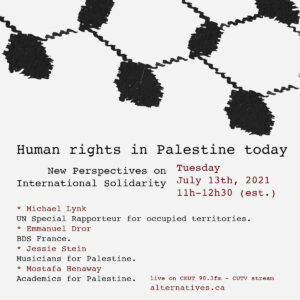 Tuesday, July 13th, 2021
11h-12h30 EST

This event will take place in English with translation offered live on zoom. With support from Academics for Palestine at Concordia and Independent Jewish Voices in Canada. Access the event here: https://us02web.zoom.us/j/89269165479

Presentations by:
Michael Lynk, Special Rapporteur on the situation of human rights in the Occupied Territories, Palestine.
Emmanuel Dror, BDS France working group on the cultural boycott campaign
Mostafa Henaway, Labour for Palestine + Academics for Palestine, Concordia University
Jessie Stein, Musicians for Palestine
A representative from the Palestinian Campaign for the Academic and Cultural Boycott of Israel (PACBI)
Moderated by Stefan Christoff, host of Free City Radio, CKUT 90.3fm

This event takes place as part of a series of webinars hosted by Alternatives that focus on human rights around the world, the corresponding social movements which are struggling for justice and the ways that activist movements connect on local and global levels. This international conference will focus on highlighting many layers of political engagement with the growing global movement in solidarity with Palestinian human rights.

Specifically this event takes place within the context of the devastating human rights abuses and war crimes that were central to the Israeli military attack on Gaza in May 2021, and the corresponding wave of international solidarity actions with the Palestinian people around the world. This event will specifically highlight the efforts of human rights advocates around the world to speak out about the systemic injustice in occupied Palestine as part of the global Boycott, Divestment and Sanctions (BDS) movement that targets the Israeli government.

Speaker bios :
– Michael Lynk is Associate Professor at the Faculty of Law, Western University, London, Ontario, Canada. He joined the Faculty in 1999, and has taught courses in labour, human rights, disability, constitutional and administrative law. He served as Associate Dean of the Faculty between 2008-11. Professor Lynk is the co-author, with Michael Mac Neil and Peter Engelmann, of Trade Union Law in Canada (Thompson Reuters). He is the co-editor, with John Craig, of Globalization and the Future of Labour Law (Cambridge University Press, 2006), and the co-editor, with Susan Akram, Michael Dumper and Iain Scobbie, of International Law and the Middle East Conflict (Routledge, 2011). He is a contributing author to Employment Law in Canada (4th ed.), with Peter Barnacle as a principal revising author. He has served as a labour arbitrator since 2000. Since 2007, he has been a vice-chair and arbitrator with the Ontario Grievance Settlement Board. In January 2015, Professor Lynk was named to the Mayor of London's Honours List for his work on humanitarian issues. In March 2016, the United Nations Human Rights Council appointed Professor Lynk as Special Rapporteur for the human rights situation in the Palestinian Territory occupied since 1967 for a six-year term. In his capacity, he delivers regular reports to the UN General Assembly and the Human Rights Council on human rights trends in the OPT.
– Emmanuel Dror is a biophysicist, member of the International commission of the Union syndicale Solidaires and of the Campagne BDS France where he works on campaigns related to unions, the academia and cultural issues. He is the author of the article « Seventy years of songs for Palestine » and of the blog « Entre les oreilles » where he combines his passions for music and politics
– Mostafa Henaway is a longtime community organizer at the Immigrant Workers Centre in Montreal. Mostafa has also been a long-time solidarity activist for Palestinian self-determination with Tadamon (Solidarity in Arabic) which organizes to build active support for the Boycott Divestment and Sanctions campaign. He was a member of the International Solidarity Movement in 2004. He Has also been involved in Labour 4 Palestine and is active with Academics 4 Palestine at Concordia University
– Jessie Stein is a musician and geographer living and working in Montréal and New York. She is a member of The Luyas, a signatory of the Musicians for Palestine initiative, and a Ph.D. candidate at the CUNY Graduate Center.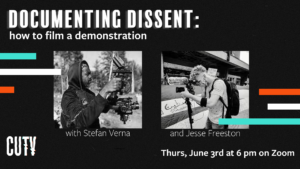 Are you passionate about social movements and interested in providing documentary coverage of demonstrations? Learn how with our resident experts Stefan Verna and Jesse Freeston. These experienced video journalists will walk us through framing techniques, equipment must-haves, and on-the-ground interview tips to provide quality coverage of protests and events, as well as answer your questions.

Stefan Verna

Stefan Verna is Montreal based filmmaker whose creations explore many genres such as documentary, fiction, music videos and dance films. His deep interest in Hip Hop Culture, Black Cinema and Politics fuels his body of work. 'Poeticizing our pain' describes both his process and the impact he seeks with his filmmaking. In 2016, he co-founded Black on Black Films, a collective for Black filmmakers in Quebec.

His previous films are: Ice Storm Cabaret , Chocolate City, Poetry in Motion, Diversidad: a Roadtrip to Deconstruct Diner, Drawing Blank, MONtreal: Jazz Stories. Metamorh. He is presently completing his second documentary feature called NOMAD'S LAND: a documentary Rhyme, directing NIGHT WATCHES US at the NFB and in developing a feature film On Thin Ice with Loaded Pictures.

Jesse Freeston

As a freelance shooter-editor he has worked for a variety of platforms including: Vice News, La Planète S'invite au Parlement, Politico, 60 Second Docs (Winner of the 2019 Webby Award for Best Documentary Video Channel) and as a member of the media team of the Wet'suwet'en Nation. As a filmmaker, Jesse is an active member of the Makila co-operative where he co-organizes regular story development incubators, the annual Cuban Hat Pitch at the RIDM, and contributes as a shooter or editor on the projects of fellow filmmakers. Ever since the 2009 military coup d'état Jesse has worked extensively in Honduras where he directed two independent documentary films: Revolutionary Medicine: A Story of the First Garifuna Hospital and Resistencia: The Fight for the Aguan Valley. Before falling in love with cinema Jesse worked as a video-journalist for teleSUR and The Real News Network. When not behind a lens or in front of a screen, Jesse is a devout basketball player, mediocre improv performer, and co-host of the podcast Where Is Now.

Register below (please note you will receive the Zoom link via email on the day of the event). This workshop is open to all CUTV members. Concordia Undergraduate students can become CUTV members for FREE. For the general public, a CUTV membership is $20/year and comes with many perks, including access to all of our workshops and events, equipment rental, and studio use. Head to https://www.cutvmontreal.org/membership/ to sign up as a member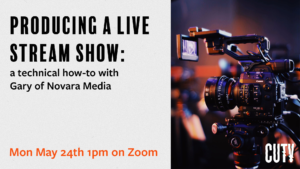 Are you interested in starting a live-streaming show, or want to up your production quality? Want guidance about what camera to use, what software to purchase, and how to capture great audio? Gary, head of video at Novara Media, has you covered! In this technical how-to workshop, Gary will go over both browser based streaming as well as hardware/software streaming and provide a run down of necessary equipment and how to make a great set-up.

Gary has served as head of video at Novara Media since 2016, during this time he oversaw two livestreamed politics shows (The Fix + TyskySour) and numerous outside broadcast specials. Alongside his work at Novara he freelances as a video producer and livestream producer for clients as diverse as Google, Nintendo, The Labour Party and the Trades Union Congress.

This workshop is open to all CUTV members. Concordia Undergraduate students can become CUTV members for FREE. For the general public, a CUTV membership is $20/year and comes with many perks, including access to all of our workshops and events, equipment rental, and studio use. If you are not a member yet, head to https://www.cutvmontreal.org/membership/ to sign up.

If you are a CUTV member, sign up here (please note you will receive the Zoom link via email on the day of the event)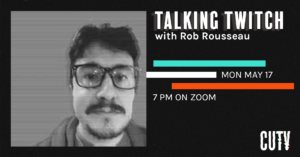 Thinking of starting your own Twitch show but don't know where to start? We have the person for you! Rob Rousseau, famous for infiltrating US elections and antagonizing the alt-right, will be hosting a CUTV workshop about his live-streaming Twitch show "The Rob Rousseau Show". Rob will bring us through his Twitch victories, failures, share some "best of" clips, and answer your questions about all things Twitch.
What is Twitch? Twitch is a video live streaming service that focuses on video game live streaming, broadcasts of esports competitions, music broadcasts, creative content, and political/social commentary broadcasts. Check out The Rob Rousseau Show on Twitch here https://www.twitch.tv/robrousseau/about

Register below (please note you will receive the Zoom link via email on the day of the event). This workshop is open to all CUTV members. Concordia Undergraduate students can become CUTV members for FREE. For the general public, a CUTV membership is $20/year and comes with many perks, including access to all of our workshops and events, equipment rental, and studio use. Head to https://www.cutvmontreal.org/membership/ to sign up as a member.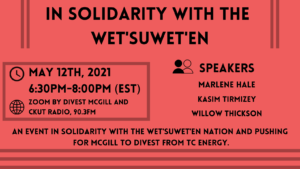 We warmly invite you to join us for a virtual petition launch and hear from our three speakers on why McGill must divest from the Coastal GasLink pipeline in solidarity with the Wet'suwet'en nation.We stand with the demands of the Hereditary Chiefs of the Wet'suwet'en Nation that call upon the ceasing of construction of the Coastal GasLink pipeline, the immediate withdrawal of the RCMP and associated security and police forces from Wet'suwet'en territory, and that Wet'suwet'en self-determination is honored by respecting their decisions, laws, and governance structures.Come hear from Marlene Hale from the Wet'suwet'en nation, as she describes the current situation and the need for immediate action in solidarity with the nation; from Kasim Tirmizey who will explain the links between McGill investment in the colonial and destructive pipeline; and a speaker from the Canadian Association of Physicians for the Environment who will detail how the ongoing construction of the pipeline has brought the pandemic into the Wet'suwet'en territory. Stefan Christoff will be moderating the event and the subsequent question period.This event will also serve to launch the petition demanding immediate divestment by McGill university from the pipeline (see petition here: http://chng.it/z5jZcbfYhZ).

PLEASE REGISTER FOR THE EVENT BY FOLLOWING THIS LINK: https://mcgill.zoom.us/…/tZwocuGtqDksHNZnNyDWrdqFsgUsm1…

Brought to you by Divest McGill, CKUT, CAPE, The Indigenous Students Alliance, McGill Nurses for Planetary Health, Free City Radio, and CUTV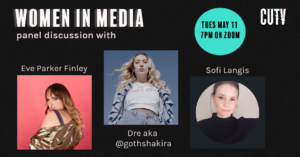 Join CUTV as we speak to 3 women who are making waves in the Canadian media landscape. This conversation will be moderated by Local 514 host Savanna Craig.

Featuring:

Dre

Dre is a Latinx artist and former resident of Montreal currently based in Los Angeles. Dre is a social media director whose digital career spans 10+ years across the spaces of media, fashion, and internet art, including clients such as Gucci, SSENSE, the FADER, and Highsnobiety. She also runs the Instagram account @gothshakira, through which she created and pioneered the long-form meme genre and has amassed almost 45k followers. Dre's content blends anti-oppressive thought, spirituality, queer culture, and surreal/deep-internet humour to create digital-first commentary, engaging image macros, and viral memes.

Eve Parker Finley

Eve Parker Finley is a noted Montreal multi-instrumentalist, comedian, and upcoming Indie Pop Superstar. Utilizing platforms such as TikTok and Instagram , her comedy dives head first into the absurdities of contemporary life, exploring topics ranging from Quebec politics, to park personalities, to independent music scenes. As a musician, she's known for braiding a dense and deliberate web of string arrangements and classical naturalism into a former raver's penchant for programmed beats and four on the floor grooves. Finley has been a mainstay in the Montreal independent scene for nearly a decade and her debut album, Chrysalia, was released Dec 4th.

Sofi Langis

Sofi Langis is an acadian award-winning documentary director and producer based in Montreal. She spent the first 10 years of her career focusing on geo-political conflict abroad. Her first film, Boot Camp Nation (Grands reportages, RDI), follows young Israeli Defense Forces recruits summoned to fight in the 2006 conflict with Hezbollah. In and out of military embeds, she chronicled the human stories of mandatory combat soldiers who both struggled and thrived in the military context. State of Mind (Grands reportages, RDI), juxtaposed the daily struggles of Albanian and Serbian families living in isolated enclaves in remote areas of Kosovo as tensions rose leading up to the declaration of independence in 2009. Langis spent 4 years at VICE Canada in the role of documentary producer/director and later senior producer. Her pieces aired on both VICELAND and it's digital platform, garnering over 25 million views. These include Ukraine: Canada's Proxy War with Russia filmed on the frontlines of a raging war in Eastern Ukraine (Best of VICE Canada, CSA-nominated), Fear and Loading (VICE Essentials CSA-winning), as well as #Metoo Hits Parliament Hill, a Canadian Journalism Award-nominated investigation into reporting protocols for sexual misconduct victims at Parliament Hill.

In 2019, Sofi Langis co-founded Impact, a women-led documentary production company based in Montreal. She has since produced Kumtor (Club Illico, Judith Jasmin Journalism Award-nominated) and is currently delivering Impact's first 6×1-hr documentary series for Quebecor/Club Illico. Sofi Langis's work has also been featured in TV and digital projects published by The New Yorker, TV5, and Radio-Canada.

Register below (please note you will receive the zoom link via email on the day of the event). This workshop is open to all CUTV members. Concordia Undergraduate students can become CUTV members for free. For the general public, a CUTV membership is $20/year and comes with many perks, including access to all of our workshops and events, equipment rental, and studio use. Head to https://www.cutvmontreal.org/membership/ to sign up as a member.