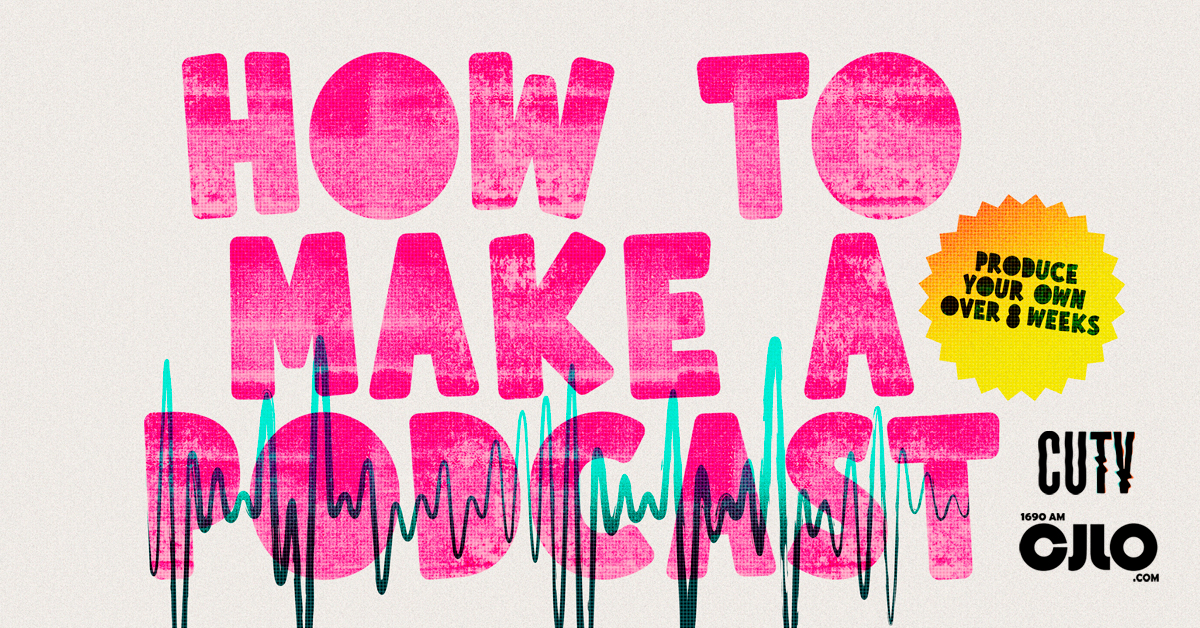 CUTV & CJLO 1690AM present: How to Make a Podcast!
You've all heard the term before: podcast. It's new, it's exciting, and it seems like everyone has one. And maybe you already do! But if you don't, luckily CUTV and CJLO 1690AM have got you covered! In this eight week series, participants will master foundational concepts of audio production and storytelling. At the end of the series, participants will have their very own pilot episode ready to go! We'll cap things off with a listening party for all involved!
And you won't be alone– the staff from CJLO 1690AM & CUTV will be there to support you every step of the way, and participants will have full access to recording and editing equipment as well as a workspace to complete weekly tasks. By the end of the eight week series. We'll cap things off with a listening party for all involved! There is a $20 or PWYC registration fee for this event. Proceeds from the registration fee will go towards a final listening party! If for any reason you require your fee to be waived, email emma@cutvmontreal.orgTo register, please fill out this form and follow the instructions to pay the registration fee: https://forms.gle/LyYA5NN4b9qpdPYE7
Dates of Instruction:
June 7  | Into to Podcasting 1
June 14 | Intro to Podcasting 2
June 21 | Intro to Recording
June 28 – July 1 | Recording troubleshooting office hours
July 5 | Editing sessions 1
July 12 | Editing sessions 2
July 19 | Editing sessions 3
August 9 | Publishing & Promoting/Listening Party

NOTE: This will be an in-person series, meaning all participants must be based in Montreal. CUTV and CJLO 1690AM will follow all directives issued by Concordia University.
A little bit about our facilitators:
Francella Fiallos (she/her) is the Station Manager at CJLO 1690AM. She has done the whole J-School thing (twice!) at both Carleton University and the University of King's College where she respectively earned her Bachelor's and Master's degree. She has bylines in CBC, Halifax Examiner, The Coast, and rabble.ca, but her main focus has been campus-community radio where she has spent the past seven years. She is a juror for Music Nova Scotia, ADISQ, and the Polaris Music Prize.
Chris Aitkens (he/him) is the Program Director at CJLO 1690AM. He is also the host of Sewer Spewer, where he pays tribute to Montreal's underground scene every week. He studied journalism at Concordia University, which led to him becoming a board operator and weekend "news vampire" at CJAD 800 before joining CJLO's team. On the side, he writes about horror movies for Nightmare On Film Street, and screams in a heavy punk band called Gutser. His other obsessions include the Simpsons, VHS collecting and sewing.
Emma Austin (she/her) is the Station Manager at CUTV. Emma is a musician and writer, and has worked as a professional musician for over ten years. She graduated from the Simone de Beauvoir Institute in 2020 with a double major in Gender Studies and Sociology, and she currently writes, edits, and co-hosts a podcast on the Harbinger Media Network called Gender Troubles.
Andre Goulet (he/him) is the Executive Director of the Harbinger Media Network, a podcasting nonprofit empowering a new generation of progressive media creators. He's also the host of the long-running politics and society interview podcasts "Unpacking the News", "The Korea File" and "Harbinger Society Presents". Goulet is also the producer of "Le Plancher des Vaches" from Pivot Quebec, "Face au Futur" from Spacing Magazine, the weekly Jewish-Canadian current events show 'Bonjour Chai' and the 2018 Paris Podcast Festival Grand Jury Prize-winning "Fil Rouge", a French-language series exploring stories from First Nations and Inuit communities in northern Quebec.