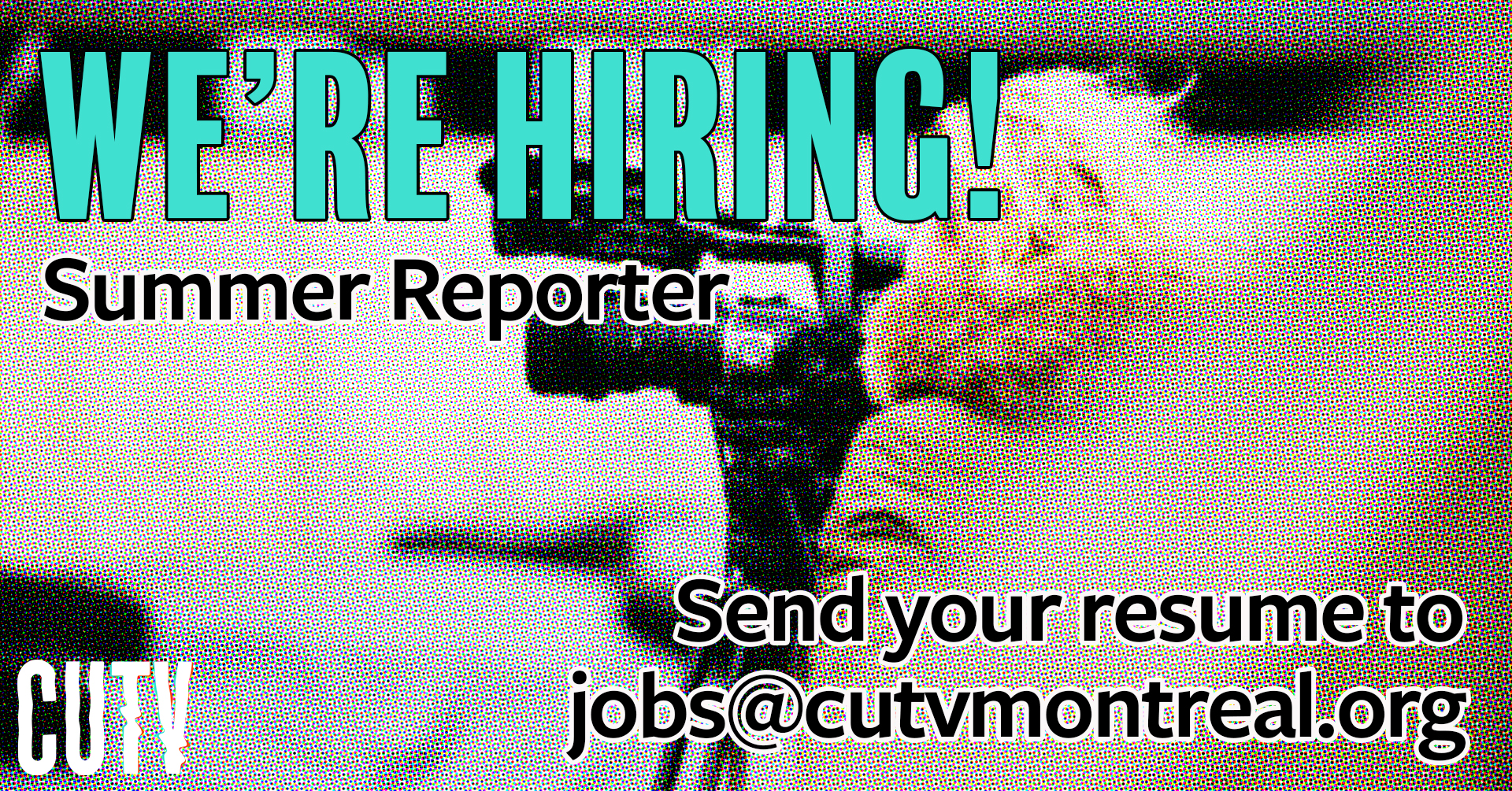 CUTV is hiring a Summer Reporter. Community University Television (CUTV) is Canada's oldest student TV station and operates as a non-profit fee-levy organization. CUTV is a hub for independent media production and growing alternative media institutions. The core of CUTV's mandate is to train and build a network of mutually supportive independent journalists and media producers. Through educational events, workshops, and equipment lending, CUTV aims to connect the community and empower the next generation of journalists. Learn more at www.cutvmontreal.org/
Summer Reporter Job Description:
The summer reporter position will collaborate with our existing coordinators, reporters and volunteers to deliver reporting on underreported local issues and social movements.
Core Responsibilities:
– Participate in pitch meetings with the journalism team
– Research stories
– Participate in collaborative script writing
– Conduct interviews
– Deliver on-screen reports
– Travel to outdoor demonstrations and events to conduct interviews and provide on-the-ground reports (while abiding by all health and safety measures relating to COVID-19 put forth by the Government of Quebec)
– Assist in editing video and audio footage
– Assist in social media promotion
– Attend weekly staff meetings
Qualifications and experience:
– Excellent verbal and written English communication skills
– Excellent computer skills
– Ability to work autonomously
Assets:
– Experience using video editing software (PremierePro, Final Cut Pro, DaVinci, etc)
– Experience using audio editing software (Pro Tools, Logic Pro, Audacity, etc)
– Fluency in spoken and written French
Education: The ideal candidate is a current/former student in journalism or communications.
More info:
*This position requires some in-person work*
Reporting to the station manager and lead journalist
Compensation $15.00 per hour at 35 hours/week for 8 weeks
Contract start date: ASAP
Deadline to apply: rolling
To Apply:
Applicants must be eligible for Canada Summer Jobs positions. The qualifications are as follows:
– You must be between 15 and 30 years of age
– You must be a Canadian citizen, permanent resident, or person to whom refugee protection has been conferred (foreign students are ineligible) and be legally entitled to work in Canada.
– Please send your cover letter and resume to jobs@cutvmontreal.org