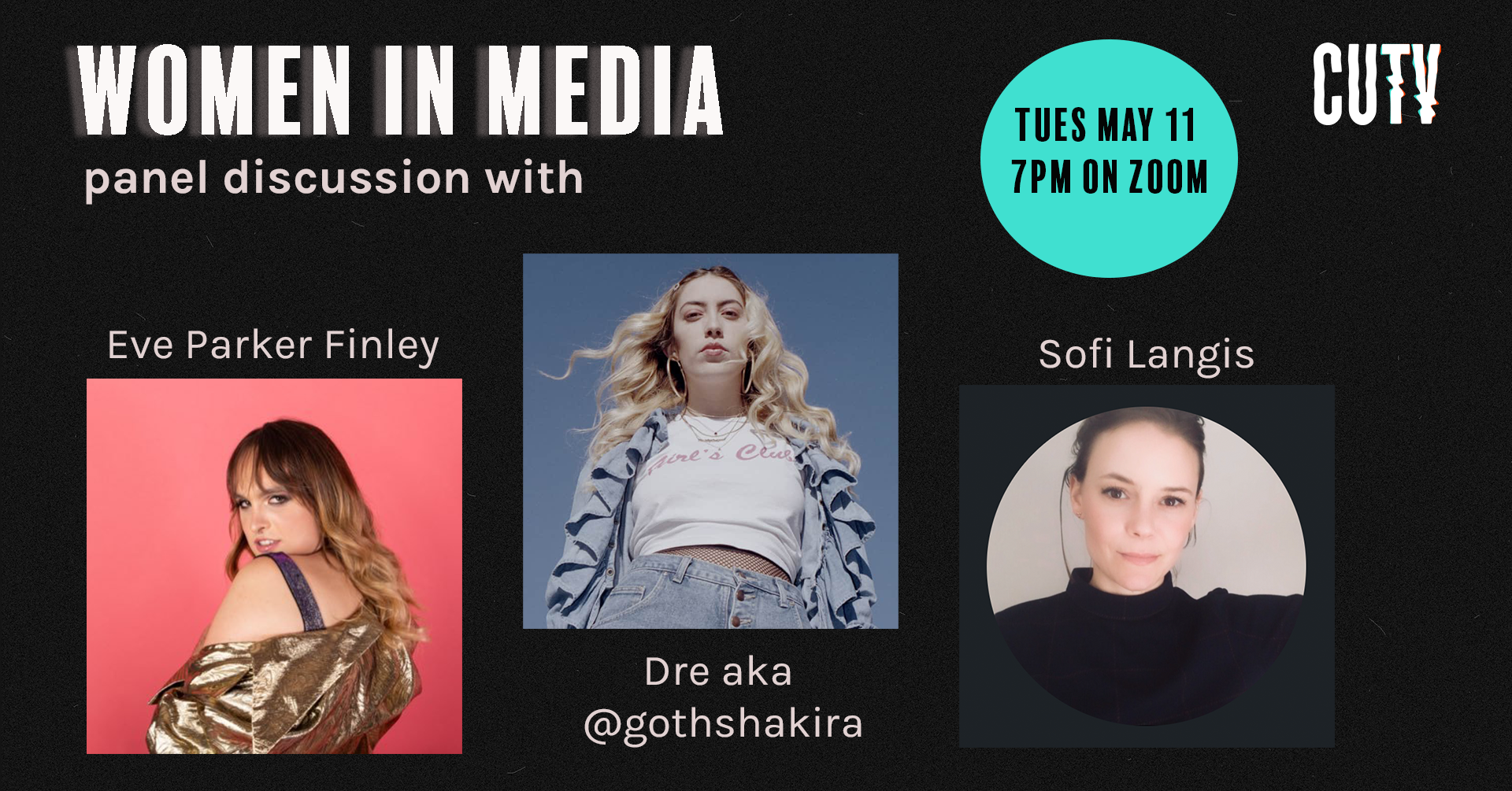 Join CUTV as we speak to 3 women who are making waves in the Canadian media landscape. This conversation will be moderated by Local 514 host Savanna Craig.
Featuring:
Dre
Dre is a Latinx artist and former resident of Montreal currently based in Los Angeles. Dre is a social media director whose digital career spans 10+ years across the spaces of media, fashion, and internet art, including clients such as Gucci, SSENSE, the FADER, and Highsnobiety. She also runs the Instagram account @gothshakira, through which she created and pioneered the long-form meme genre and has amassed almost 45k followers. Dre's content blends anti-oppressive thought, spirituality, queer culture, and surreal/deep-internet humour to create digital-first commentary, engaging image macros, and viral memes.
Eve Parker Finley
Eve Parker Finley is a noted Montreal multi-instrumentalist, comedian, and upcoming Indie Pop Superstar. Utilizing platforms such as TikTok and Instagram , her comedy dives head first into the absurdities of contemporary life, exploring topics ranging from Quebec politics, to park personalities, to independent music scenes. As a musician, she's known for braiding a dense and deliberate web of string arrangements and classical naturalism into a former raver's penchant for programmed beats and four on the floor grooves. Finley has been a mainstay in the Montreal independent scene for nearly a decade and her debut album, Chrysalia, was released Dec 4th.
Sofi Langis
Sofi Langis is an acadian award-winning documentary director and producer based in Montreal. She spent the first 10 years of her career focusing on geo-political conflict abroad. Her first film, Boot Camp Nation (Grands reportages, RDI), follows young Israeli Defense Forces recruits summoned to fight in the 2006 conflict with Hezbollah. In and out of military embeds, she chronicled the human stories of mandatory combat soldiers who both struggled and thrived in the military context. State of Mind (Grands reportages, RDI), juxtaposed the daily struggles of Albanian and Serbian families living in isolated enclaves in remote areas of Kosovo as tensions rose leading up to the declaration of independence in 2009. Langis spent 4 years at VICE Canada in the role of documentary producer/director and later senior producer. Her pieces aired on both VICELAND and it's digital platform, garnering over 25 million views. These include Ukraine: Canada's Proxy War with Russia filmed on the frontlines of a raging war in Eastern Ukraine (Best of VICE Canada, CSA-nominated), Fear and Loading (VICE Essentials CSA-winning), as well as #Metoo Hits Parliament Hill, a Canadian Journalism Award-nominated investigation into reporting protocols for sexual misconduct victims at Parliament Hill.
In 2019, Sofi Langis co-founded Impact, a women-led documentary production company based in Montreal. She has since produced Kumtor (Club Illico, Judith Jasmin Journalism Award-nominated) and is currently delivering Impact's first 6×1-hr documentary series for Quebecor/Club Illico. Sofi Langis's work has also been featured in TV and digital projects published by The New Yorker, TV5, and Radio-Canada.
Register below (please note you will receive the zoom link via email on the day of the event). This workshop is open to all CUTV members. Concordia Undergraduate students can become CUTV members for free. For the general public, a CUTV membership is $20/year and comes with many perks, including access to all of our workshops and events, equipment rental, and studio use. Head to https://www.cutvmontreal.org/membership/ to sign up as a member.