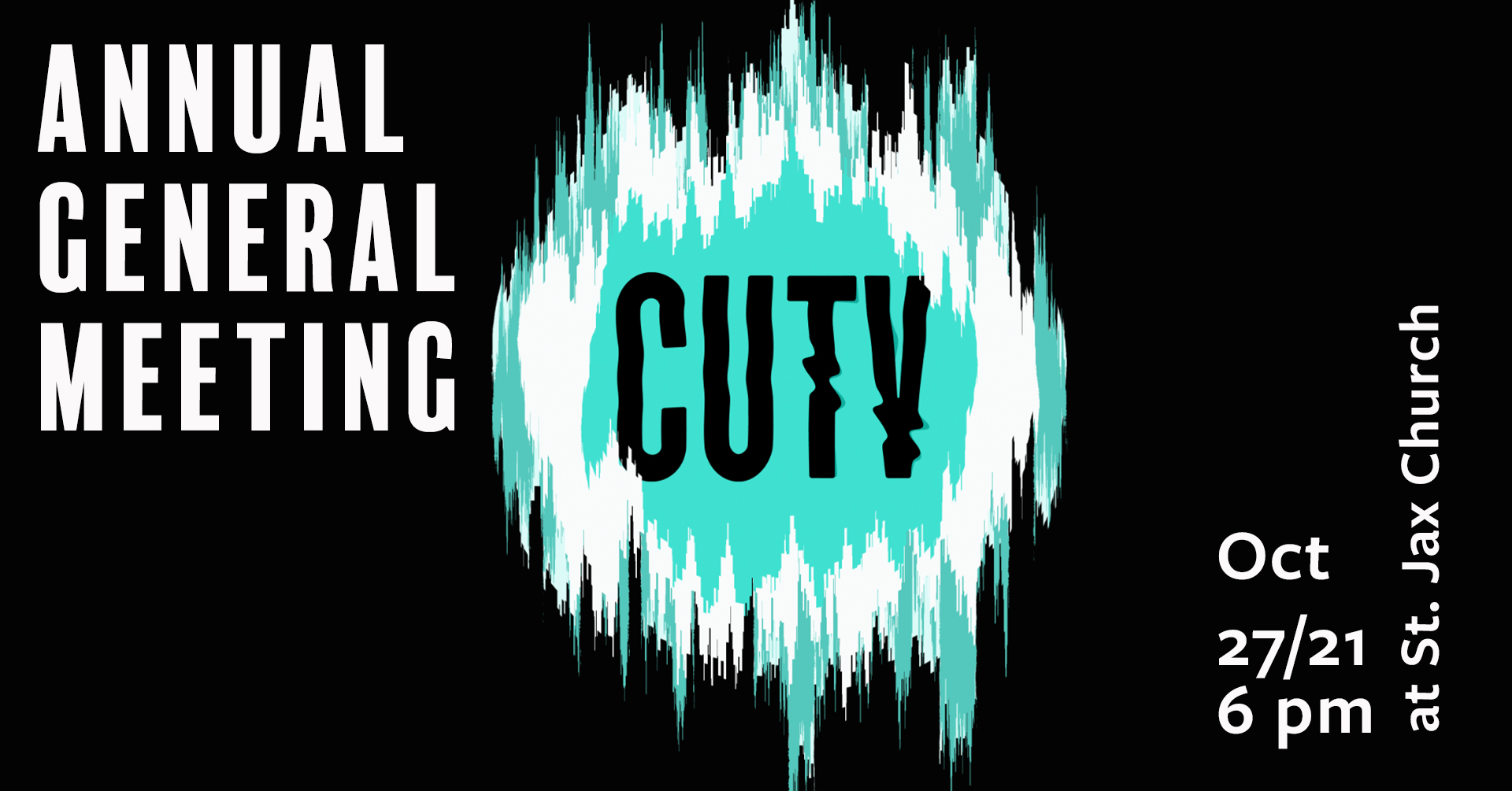 As a member of CUTV, you are formally invited to our Annual General Assembly!
Join us to learn about all the things CUTV has accomplished over the year and what we are planning for this coming year. Due to limited capacity, we are offering a hybrid in-person & online event. If you would like to attend in person, please RSVP via the in-person registration link ASAP to reserve your spot. If you would like to attend via Zoom, please RSVP via the online registration link. This is also the exciting time when we will elect new members to the Board of Directors!
Registration:
In-person advance registration-
 https://forms.gle/kAy5afKqEGPsWqtu7
Online advance registration-
https://us02web.zoom.us/meeting/register/tZEldOqtrDsjEtcE7FZAzTRqMBUTz_H1N8LT
After registering, you will receive a confirmation email containing information about joining the meeting.
BoD:
The board is looking for new members to join our board! We are looking for:
Student Members (4)
Community Members (3)
Before running please consider the commitment of being an active board member below:
Each board member is committing to a one year mandate, and is expected to dedicate 4-6 hours per month to the organization.
Board members are expected to attend monthly board meetings which last approximately 2-3 hours.
In addition to monthly board meetings, board members are expected to sit on at least one active board committee, to be determined at the first meeting of the year. Committees typically meet once or twice a month for 1-2 hours.
Please note due to Covid all meetings are currently happening over zoom, but this might change
This year, CUTV is looking for Board of Director candidates that have experience in the following areas:
Media and journalism
Videography
Business decision making
Business branding
Strategic business development
Online marketing
Social economy
Grant writing & fundraising
Human resource management/group decision making
Financial literacy
To apply:
Send a brief email to: info@cutvmontreal.org
In your email, include a description of who you are and why you want to get involved. All candidates will also be requested to present themselves at the upcoming Annual General Assembly. Please note that you may still run for a board seat in the AGM without undertaking this process, we have set this up as a means of providing guidance and support to those candidates who are considering joining the board.
See you there! We will have food and (non-alcoholic) drinks, as well as drink tickets for Reggies post-AGM!