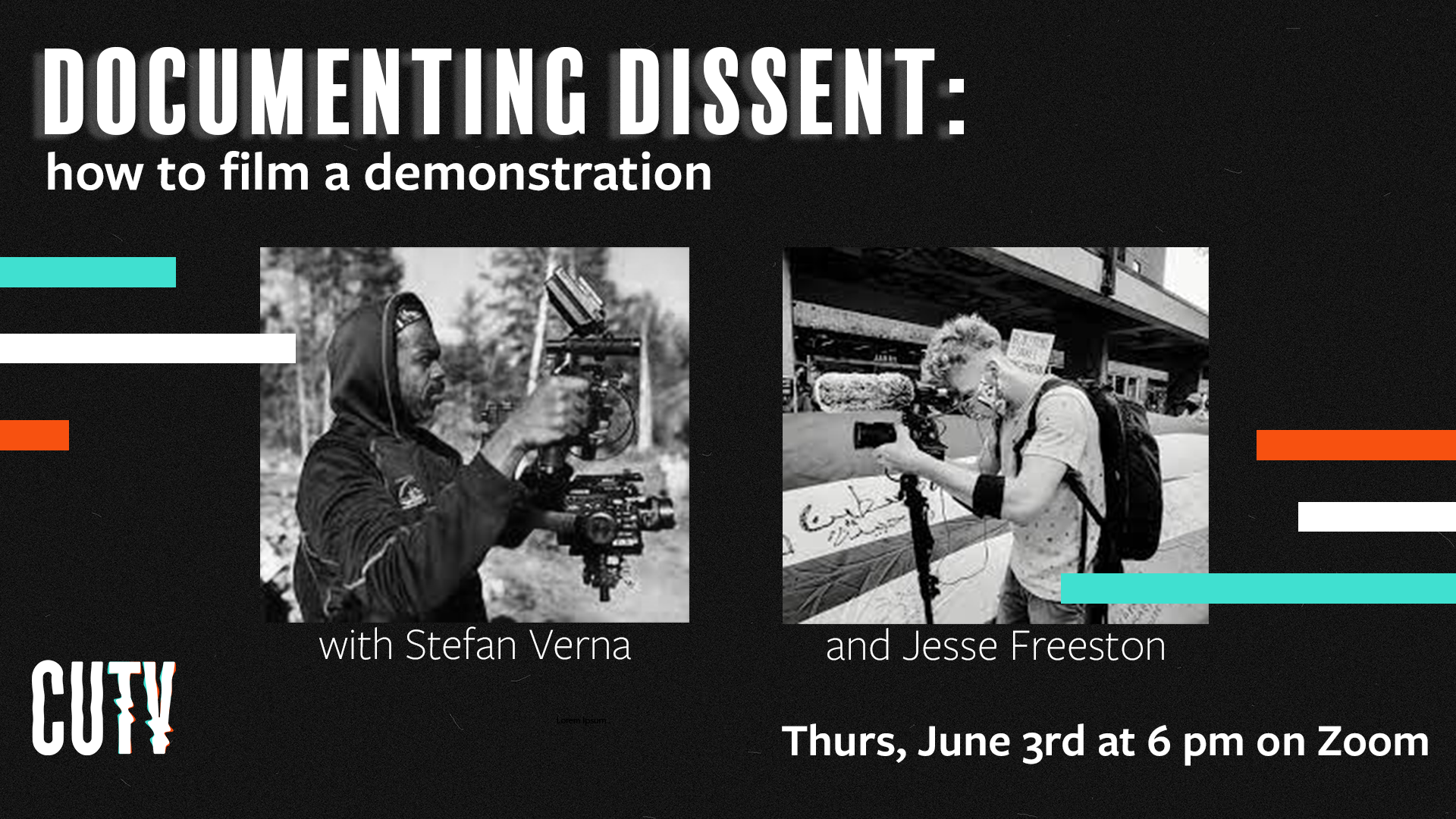 Are you passionate about social movements and interested in providing documentary coverage of demonstrations? Learn how with our resident experts Stefan Verna and Jesse Freeston. These experienced video journalists will walk us through framing techniques, equipment must-haves, and on-the-ground interview tips to provide quality coverage of protests and events, as well as answer your questions.
Stefan Verna
Stefan Verna is Montreal based filmmaker whose creations explore many genres such as documentary, fiction, music videos and dance films. His deep interest in Hip Hop Culture, Black Cinema and Politics fuels his body of work. 'Poeticizing our pain' describes both his process and the impact he seeks with his filmmaking. In 2016, he co-founded Black on Black Films, a collective for Black filmmakers in Quebec.
His previous films are: Ice Storm Cabaret , Chocolate City, Poetry in Motion, Diversidad: a Roadtrip to Deconstruct Diner, Drawing Blank, MONtreal: Jazz Stories. Metamorh. He is presently completing his second documentary feature called NOMAD'S LAND: a documentary Rhyme, directing NIGHT WATCHES US at the NFB and in developing a feature film On Thin Ice with Loaded Pictures.
Jesse Freeston
As a freelance shooter-editor he has worked for a variety of platforms including: Vice News, La Planète S'invite au Parlement, Politico, 60 Second Docs (Winner of the 2019 Webby Award for Best Documentary Video Channel) and as a member of the media team of the Wet'suwet'en Nation. As a filmmaker, Jesse is an active member of the Makila co-operative where he co-organizes regular story development incubators, the annual Cuban Hat Pitch at the RIDM, and contributes as a shooter or editor on the projects of fellow filmmakers. Ever since the 2009 military coup d'état Jesse has worked extensively in Honduras where he directed two independent documentary films: Revolutionary Medicine: A Story of the First Garifuna Hospital and Resistencia: The Fight for the Aguan Valley. Before falling in love with cinema Jesse worked as a video-journalist for teleSUR and The Real News Network. When not behind a lens or in front of a screen, Jesse is a devout basketball player, mediocre improv performer, and co-host of the podcast Where Is Now.
Register below (please note you will receive the Zoom link via email on the day of the event). This workshop is open to all CUTV members. Concordia Undergraduate students can become CUTV members for FREE. For the general public, a CUTV membership is $20/year and comes with many perks, including access to all of our workshops and events, equipment rental, and studio use. Head to https://www.cutvmontreal.org/membership/ to sign up as a member