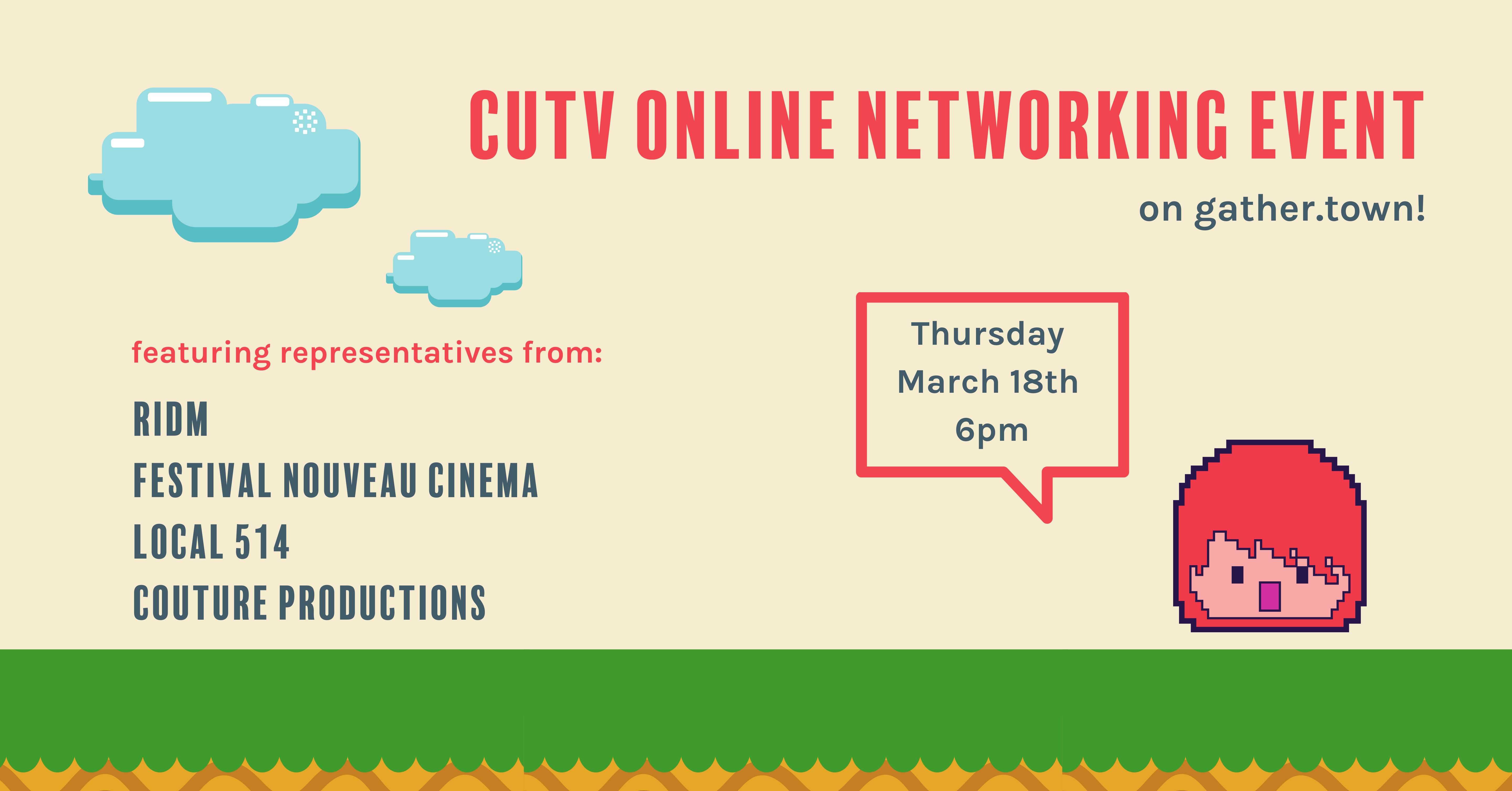 Join CUTV for a remote networking event on gather.town! What's gather.town? It's a video-calling space that lets multiple people hold separate conversations in tandem. It utilizes a 2D map reminiscent of a vintage video game that allows attendees to travel from room to room and participate in different video conversations (you can try a free demo here: https://gather.town/app/N8w4L2HdJPrRKEuf/Live%20Walkthrough )
We are creating our own networking town, stacked with industry professionals, to talk to YOU about getting started in the film and video industry. Our guests will be:
-Isabelle Couture of Isabelle Couture Productions-
Isabelle has worked in the film industry and television production since 2005. After ten years of working in companies such as Films de l'Isle and Esperamos, she pursued her freelance career as a producer, consultant, and screenwriter. Isabelle collaborates with various production companies in Montreal on fiction and documentary projects for television as well as for the big screen. She produces content for Quebec, English Canada, and the international market.
Several of her productions have won awards at home and abroad, such as the 2020 film Antigone by Sophie Deraspe, which was selected to represent Canada in the 2020 Oscars race and which won several awards at TIFF, the Whistler Film Festival, the Canadian Screen Awards, and the Gala Québec Cinéma.
Isabelle serves on the Hot Docs board of directors, America's largest documentary film festival. Until early 2020, she served as Vice-Chair of the Board of Directors for the Documentary Association of Canada, an organization that advocates for the interests of the documentary community. She was also president of the association's Quebec chapter, DOC Quebec.
-Ananda Nicolaïeff of RIDM-
Ananda is the project manager of the Forum RIDM. For the past six years, she has worked in project management and programming for cultural organizations and international festivals in Latin America and Africa before moving to Montreal. She joined the RIDM team in 2019.
-Susana Fernandez of Festival Nouveau Cinema-
Born in Spain, Susana studied visual arts and sculpture at the University of Fine Arts in Madrid. After her studies, she worked in creative advertising for Canal + Spain and as a storyboard teacher. In Montreal since 2011, she has worked as a designer, editor, and artistic director for various projects. In recent years, she has worked for several festivals and is currently working as coordinator of the Festival Nouveau Cinema Forum, the professional activities platform of Montreal Festival du nouveau cinéma.
-Savanna Craig and Jesse Freeston of the CUTV video news show Local 514–
——————————————————————————————————————–
To Register: